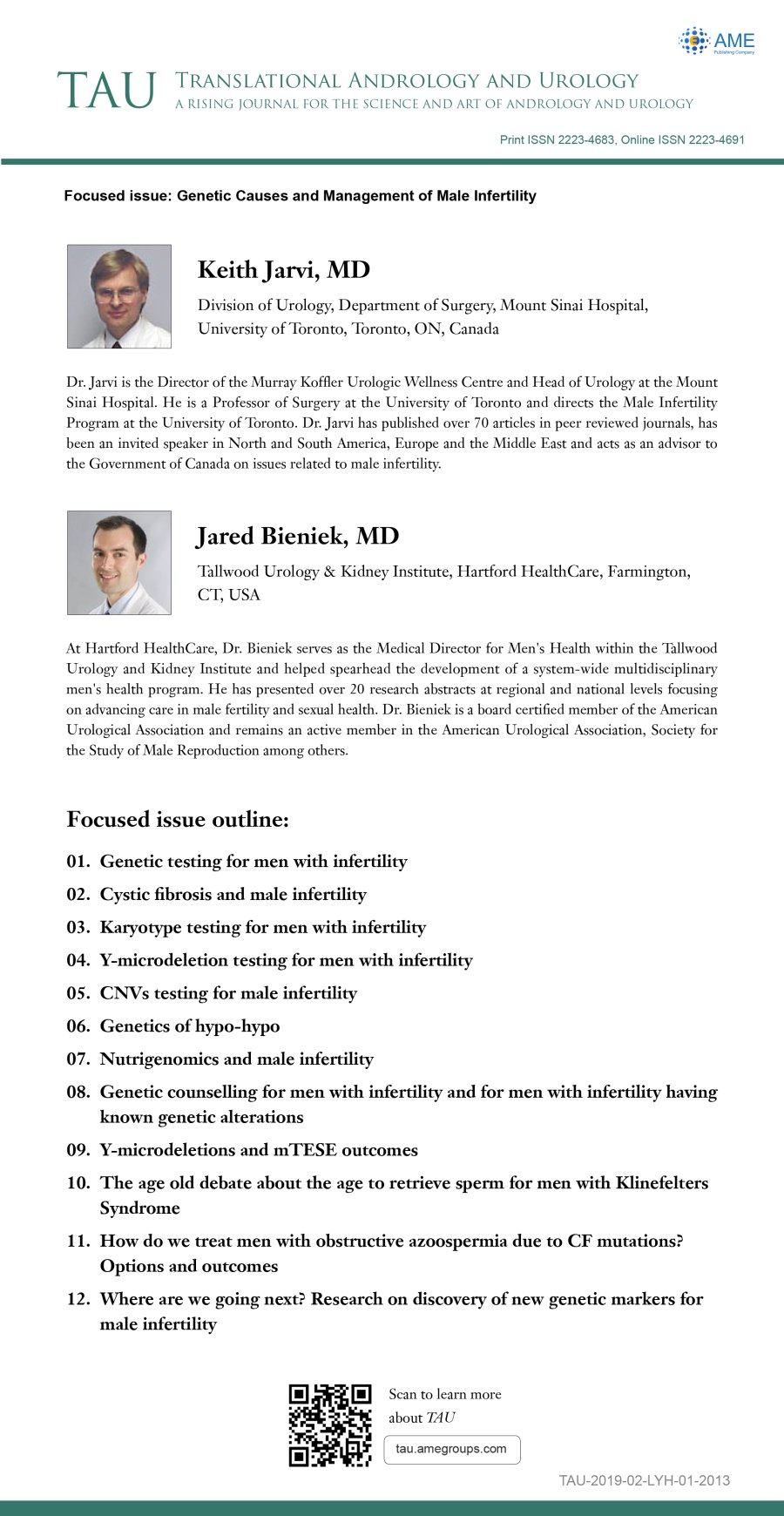 This focused issue on "Genetic Causes and Management of Male Infertility" is edited by Dr. Keith Jarvi, from Division of Urology, Department of Surgery, Mount Sinai Hospital, University of Toronto, Toronto, ON, Canada; and Dr. Jared Bieniek, from Tallwood Urology & Kidney Institute, Hartford HealthCare, Farmington, CT, USA.
Dr. Keith Jarvi is the Director of the Murray Koffler Urologic Wellness Centre and Head of Urology at the Mount Sinai Hospital. He is a Professor of Surgery at the University of Toronto and directs the Male Infertility Program at the University of Toronto. Dr. Jarvi has published over 70 articles in peer reviewed journals, has been an invited speaker in North and South America, Europe and the Middle East and acts as an advisor to the Government of Canada on issues related to male infertility.
At Hartford HealthCare, Dr. Jared Bieniek serves as the Medical Director for Men's Health within the Tallwood Urology and Kidney Institute and helped spearhead the development of a system-wide multidisciplinary men's health program. He has presented over 20 research abstracts at regional and national levels focusing on advancing care in male fertility and sexual health. Dr. Bieniek is a board certified member of the American Urological Association and remains an active member in the American Urological Association, Society for the Study of Male Reproduction among others.
Focused issue outline:
Genetic testing for men with infertility
Cystic fibrosis and male infertility
Karyotype testing for men with infertility
Y-microdeletion testing for men with infertility
CNVs testing for male infertility
Genetics of hypo-hypo
Nutrigenomics and male infertility
Genetic counselling for men with infertility and for men with infertility having known genetic alterations
Y-microdeletions and mTESE outcomes
The age old debate about the age to retrieve sperm for men with Klinefelters Syndrome
How do we treat men with obstructive azoospermia due to CF mutations? Options and outcomes
Where are we going next? Research on discovery of new genetic markers for male infertility
Disclosure:
The focused issue "Genetic Causes and Management of Male Infertility" was commissioned by the editorial office, Translational Andrology and Urology without any sponsorship or funding. Keith Jarvi and Jared Bieniek are are serving as the unpaid Guest Editors for the focused issue.