Review Article
Diagnosis of hypogonadism in patients treated with low energy shock wave therapy for erectile dysfunction: a narrative review
Introduction
An erection is a complex neurovascular process. Obtaining an erection is determined by a relatively rapid flow of blood into the corpora cavernosa, which leads to tumescence of the corpora cavernosa and activation of the veno-occlusive mechanism. The critical property allowing for such a significant increase in blood flow is rooted in the capacity for relaxation of the small cavernous arteries (helicine arteries), which enables them to delete by about 80%. This significantly surpasses the abilities of other vessels, which can only delete by about 15% (1). We present the following article on the role of testosterone measurement diagnosing hypogonadism during low energy shock wave therapy for erectile dysfunction (ED) in accordance with the Narrative Review reporting checklist (available at http://dx.doi.org/10.21037/tau-20-796).
---
Importance of testosterone for sexual performance
Testosterone also has an impact on an erection. It increases penile rigidity and prolongs erectile response. It stimulates libido, arousal, orgasm and sexual satisfaction. The concentration of testosterone is associated with nocturnal penile tumescence, which serves as a specific exercise to maintain the fitness of erectile tissue. The lack of nocturnal penile tumescence results in an increased production of endothelin 1 (a strong vasoconstrictor), apoptosis, as well as long-term hypoxia, which leads to the loss of smooth muscles, an increase in collagen synthesis, and to fibrosis within the corpora cavernosa (2). Next, testosterone participates in the maturation of penile tissue by promoting the commitment of mesenchymal pluripotent cells into myogenic lineage and inhibiting their differentiation into adipogenic lineage (3). Moreover, testosterone stimulates perineal muscles anatomically connected to the corpora cavernosa. This helps creating and maintain a higher pressure than this in large arteries and securing proper function of the veno-occlusive mechanism.
The mechanism of action of testosterone is linked to vascular endothelium, where it regulates the production of nitric oxide through the stimulation of nitric oxide synthase (NOS) and the formation of cyclic guanosine monophosphate (cGMP). In the case of a low testosterone concentration, abnormal relaxation of smooth muscles and corpora cavernosa occurs. An opposite, catabolic role of testosterone regulates the expression and activity of phosphodiesterase-5 (PDE5) and hydrolytic enzymes engaged in the degradation of cGMP (4).
Deterioration of the overall and sexual condition of men with age was for the first time linked to testosterone by Heller and Meyers in 1944. In men, a decrease in plasma concentration is constant and amounts to about 1.4% per year (5). Unlike other endocrine diseases defined by abnormal hormone concentrations, androgen insufficiency requires specific symptoms to occur, with sexual disorders being the most important. The European Male Aging Study conducted examinations on 3,369 men aged between 40–79 years and revealed that nine symptoms are associated with the concentration of total or free testosterone. They include three main disorders of sexual health (less morning erections, less sexual thoughts, and ED); three symptoms characteristic of physical fitness [limited of physical activity (e.g., running, ability to lift heavy objects, participation in endurance sports and inability to walk more than 1 km], and difficulty kneeling, bending and skewing; and three psychological symptoms (decrease in energy, pessimism and fatigue) (6). A higher risk of sexual health disorders and reduced physical fitness correlates with a testosterone concentration of 8–13 nmol/L (2.3–3.7 ng/mL) for total testosterone, and 160–280 pmol/L (46–81 pg/mL) for free testosterone. Based on the analysis of results of men seeking sexological help, Rastrelli et al. determined two thresholds—below 20 nmol/L the probability of the occurrence of sexual insufficiency rises, while above 38 nmol/L, this probability is almost equal to zero (7).
According to the European Association of Urology (EAU), plasma testosterone concentrations <8 nmol/L are considered abnormally low and require substitution. For higher concentrations, the relationship between circulating testosterone and sexual performance is very low. According to the British Society for Sexual Medicine, men with total testosterone that is consistently lower than 8 nmol/L (free testosterone <0.18 nmol/L) usually require treatment, while those with total testosterone of <12 nmol/L (free testosterone <0.225 nmol/L) may be offered a 6-month trial of testosterone replacement therapy. According to the American Urological Association, a testosterone concentration should be checked in all men with ED in order to determine if testosterone deficiency, defined as a total testosterone level of <300 ng/dL along with hypogonadism symptoms, occurs. Additionally, men with ED and testosterone deficiency, who are considering treatment for ED with PDE5 inhibitors, should be informed that these drugs may be more effective if combined with testosterone therapy. However, many authors identify higher testosterone thresholds with libido loss and a decrease in sexual arousal (above 15 nmol/L). Rastrelli et al. use a threshold of 20 nmol/L, which is twice as high as that stated in official recommendations (7). Additionally, an increased concentration of luteinising hormone (LH) with a concentration of testosterone of <15 nmol/L may suggest late-onset hypogonadism (LOH). The term referring to the individual norm of testosterone concentration is returning and is defined as a typical individual value that guarantees well-being for a particular man. Sensitivity to testosterone varies from person to person; the degree of the decrease in plasma testosterone concentration is a better predictor of LOH then the current total and bioavailable testosterone (8). A probable drop in testosterone receptor sensitivity in the central nervous system can explain both a reduction in sexual arousal of ageing men and the need to increase the dose of testosterone during the treatment of hypogonadism.
---
Low energy shock-wave therapy (LESWT) for ED
One of the treatments of ED that attracts great attention is LESWT. This method, despite the lack of precise recommendations due to limited data on its long-term safety and effectiveness, was included in 2013 and maintained in the newest issue of EAU guidelines. However, evidence on its efficacy in the treatment of ED is growing. ED mainly affects men over 50 years of age and is associated with vascular disorders. Many reports have documented that LESWT stimulates and activates the release of angiogenic factors that promote tissue neovascularisation, and as a result improve blood supply. Young and Dyson observed higher dynamics of formation of new blood vessels exposed to ultrasound during the early stage of healing of skin lesions in adult rats (9). The study by Nishida et al. on a porcine model of chronic myocardial ischemia showed a significant improvement in regional blood flow through myocardium treated with shock wave therapy for four weeks (9 spots; 200 shots per spot, 0.09 mJ/mm2) in comparison to the control group without treatment (10). Nishida et al. reported that exposure to shock waves leads to a significant overexpression of the mRNA of strong angiogenesis ligands, e.g., vascular endothelial growth factor (VEGF) along with its Flt-1 receptor (VEGFR-1) and protein expression in human umbilical vein endothelial cells (HUVECs) in vitro, as well as the production of VEGF in the ischemic myocardium in animal models in vivo (10). Exposure of tissues from a healthy and ischaemic myocardium to LESWT in vitro promotes proliferation and differentiation of endothelial cells, an increase in the number of mature endothelial cells and those engaged in angiogenesis, as well as an increase in the number of primary cardiomyocytes and smooth muscle cells. More obvious effects were obtained for cells taken from a healthy heart than from an ischemic heart (10). Moreover, two different mechanisms promoting the production of NO during exposure to shock waves were described; enzymatic, based on the increased expression of endothelial NOS, and non-enzymatic, requiring the presence of L-arginine and hydrogen peroxide molecules.
---
Targeted literature review
We conducted a targeted literature review of studies which exclusively examined the efficacy of LESWT in various group of patients or compared LESWT to sham protocol in the treatment of ED. We used combinations of the following key words: erectile dysfunction and low energy shock wave treatment. No specific timeframe, geographical scope or language restrictions were applied. The search in PubMed and Embase via Ovid was run on in January 2020. Our review showed that the majority of studies on the efficacy of this method did not provide any information on the current testosterone concentration, or only excluded patients with hormonal deprivation of hormonal disorders. However, all those patients suffered from a key symptom of hypogonadism, which is ED. Only 8 of 25 studies examined and showed values of testosterone concentrations (Table 1). Interestingly, testosterone levels were more often provided for cohorts treated with PDE5i likely due to the recommendation to check testosterone status when pharmacotherapy is not effective. Therefore, the question arises of which symptoms of hormonal disorders were used as exclusion criteria from these trials. A significant percentage of patients included in these studies was burdened with cardiovascular disease (CVD) or CDV risk factors that intensify a physiological drop in the testosterone concentration in men (41). Only one of these analyses checked the relationship between the efficacy of LESWT and testosterone concentration; however, the study group was small (n=20) and heterogeneous. As a result, meta-analyses published to date may not show the full value of LESWT in the treatment of ED.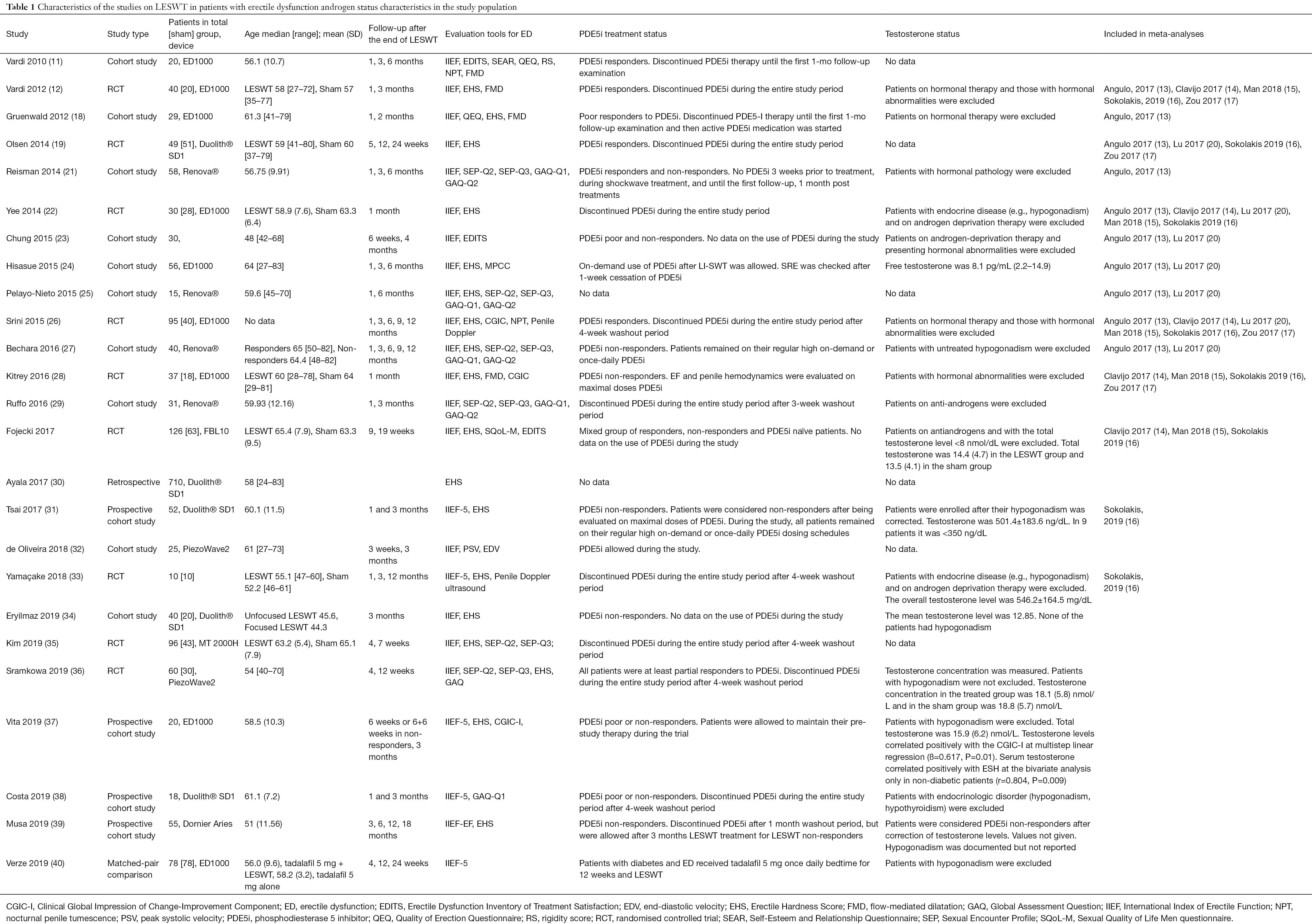 Table 1
Characteristics of the studies on LESWT in patients with erectile dysfunction androgen status characteristics in the study population
Full table
Taking into account the testosterone mechanism of action, the evidence of its benefit in patients with ED who are not-responders to PDE5 inhibitors, and the vascular mode of action of LESWT, we recommend including systematic, standardized diagnostics of hypogonadism and performing analysis on testosterone concentration and LESWT efficacy into further studies on this method in the treatment of ED.
---
Conclusions
In the light of the significant role testosterone plays in the process of an erection and the mechanism of LESWT action, it can be recommended to examine testosterone concentration and to diagnose hypogonadism during the qualification of patients to studies on LESWT efficacy. Moreover, the effectiveness of LESWT in relation to the current testosterone concentration should also be further investigated. Testosterone check and excluding hypogonadism is important before enrollment to studies on LESWT efficacy.
---
Acknowledgments
Funding: This research was carried out at Wroclaw Medical University within the projects no. SUB.A310.19.014 and SUB.A140.19.023, according to the records in the SIMPLE system.
---
Footnote
Reporting Checklist: The authors have completed the Narrative Review reporting checklist. Available at http://dx.doi.org/10.21037/tau-20-796
Conflicts of Interest: All authors have completed the ICMJE uniform disclosure form (available at http://dx.doi.org/10.21037/tau-20-796). The authors have no conflicts of interest to declare.
Ethical Statement: The authors are accountable for all aspects of the work in ensuring that questions related to the accuracy or integrity of any part of the work are appropriately investigated and resolved.
Open Access Statement: This is an Open Access article distributed in accordance with the Creative Commons Attribution-NonCommercial-NoDerivs 4.0 International License (CC BY-NC-ND 4.0), which permits the non-commercial replication and distribution of the article with the strict proviso that no changes or edits are made and the original work is properly cited (including links to both the formal publication through the relevant DOI and the license). See: https://creativecommons.org/licenses/by-nc-nd/4.0/.
---
References
Cite this article as: Kałka D, Biernikiewicz M, Gebala J, Sobieszczańska M, Jakima S, Pilecki W, Rusiecki L. Diagnosis of hypogonadism in patients treated with low energy shock wave therapy for erectile dysfunction: a narrative review. Transl Androl Urol 2020;9(6):2786-2796. doi: 10.21037/tau-20-796