Review Article on Pediatric Urologic Malignancies
Advances in the management of pediatric genitourinary rhabdomyosarcoma
Introduction
Rhabdomyosarcoma (RMS) comprises about 40% of all childhood soft tissue sarcomas, and while RMS makes up less than 1% of malignancies in adults, it accounts for approximately 8% of solid tumors in children (1). Histologically, RMS tumors are high-grade neoplasms originating from primitive mesenchymal tissue and resembling skeletal muscle histogenesis (2). RMS is comprised of four distinct histologic subtypes: (I) embryonal RMS, which are most common and typically occur in favorable sites in the head and neck and retroperitoneal regions of younger children (3,4); (II) alveolar RMS, which represent less than a third of cases, frequently occur in unfavorable sites in the trunk or extremities of adolescents and young adults, and have characteristic recurrent t(2;13) and t(1;13) chromosomal translocations encoding PAX3/7-FOXO1 fusion proteins (3-5); (III) spindle cell/sclerosing RMS, which is rare and may correlate with worse prognosis, but also has a distinct variant occurring in infants that is associated with NCOA2 or VGLL2 translocations and more favorable outcomes (2); and (IV) pleomorphic RMS, which is more aggressive and although extremely rare in children, comprises up to 43% of cases of RMS in adults (6). Overall, the incidence rate of RMS is approximately 4.5 per million individuals less than 20 years of age, accounting for about 350 new cases per year in the United States (1). The genitourinary tract represents the primary site for approximately 20–25% of RMS cases (7,8). Genitourinary RMS can arise in favorable sites such as vagina or uterus (9), but often arise in the bladder or prostate, which are unfavorable sites (10).
Due to the implementation of risk stratification and standardized multimodal management through cooperative clinical trials, outcomes for patients with RMS have improved substantially over the past 30+ years and survival for patients with RMS now exceeds 70% overall and 80% for patients with genitourinary RMS (11). Improved overall survival rates have led to a renewed emphasis on reducing local control morbidity and chemotherapy toxicity. However, historical differences exist between cooperative groups with regard to approach in local control measures for genitourinary RMS (9,12-15). Moreover, recent clinical trials aimed at minimizing toxicity for low- and intermediate-risk RMS by decreasing chemotherapy and/or radiotherapy exposure demonstrated inferior local control rates (16,17). On the other hand, improved overall survival was demonstrated with the addition of maintenance therapy following standard induction therapy in patients with non-metastatic intermediate-risk RMS (18). For patients with high-risk metastatic RMS, intensifying chemotherapy using an interval compressed multi-agent approach failed to improve overall survival (19). Indeed, with a growing appreciation for how the complexities of patient characteristics, tumor size, anatomic location, disease stage, and histologic and molecular features impact the clinical behavior of genitourinary RMS, optimal treatment strategies are still evolving.
---
Advances in RMS risk stratification
Historically, risk stratification for RMS, as employed by each of the major prior and current cooperative study groups [Intergroup Rhabdomyosarcoma Study Group (IRSG), Children's Oncology Group (COG), International Society of Pediatric Oncology (SIOP) Malignant Mesenchymal Tumor Group (MMT), European pediatric Soft tissue sarcoma Study Group (EpSSG), Cooperative Weichteilsarkom Studiengruppe der GPOH Group (CWS), and Italian Cooperative Soft Tissue Sarcoma Group (ICG)] takes into account presurgical (TNM) staging as well as postsurgical clinical grouping. TNM staging is based on the anatomic location and invasiveness of the primary tumor, tumor size, nodal status, and extent of metastasis (20). The clinical grouping is based on the extent of residual tumor after the initial resection as well as local nodal involvement and distant spread (21) (Tables 1,2). Each classification system is individually prognostic (4,8) and combine to allow patients to be stratified into low-, intermediate-, or high-risk groups (COG) (3,22) (Table 3), or low-, standard-, high-, very high-, and metastatic-groups (EpSSG) (23) (Table 4). The major difference between the COG and EpSSG classifications is that most patients considered intermediate-risk per COG are classified as high-risk per EpSSG, as any lymph node positivity is considered high-risk by EpSSG (23). The prognostic significance of RMS risk stratification is well established. Outcomes for low-risk localized RMS are outstanding, with over 90% of patients achieving cure (3,8). On the other hand, 5-year overall survival rates for high-risk metastatic RMS remain below 30% and have not significantly improved over the past several decades (4).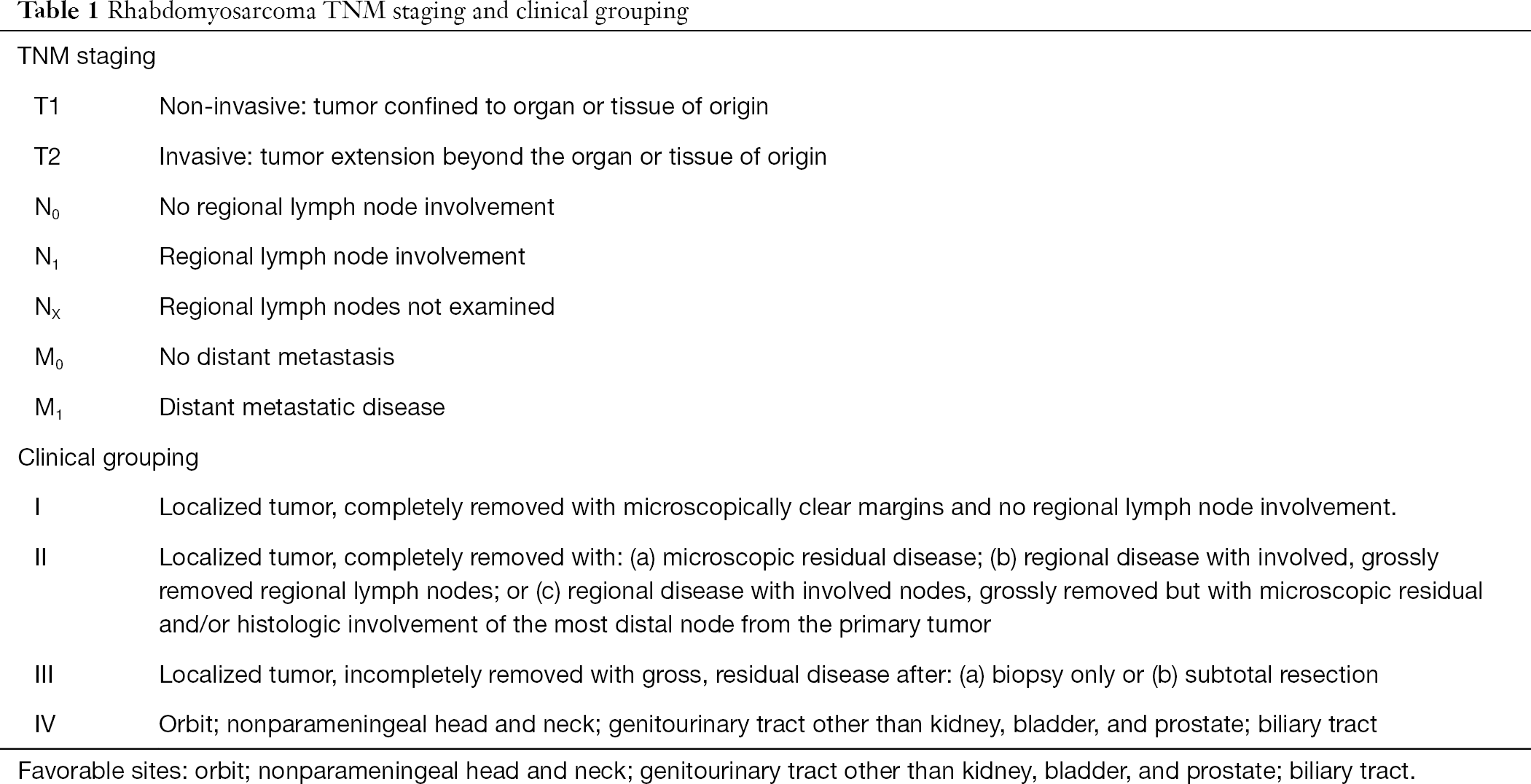 Table 1
Rhabdomyosarcoma TNM staging and clinical grouping
Full table

Table 2
Rhabdomyosarcoma pretreatment staging system
Full table

Table 3
Rhabdomyosarcoma risk stratification per COG*
Full table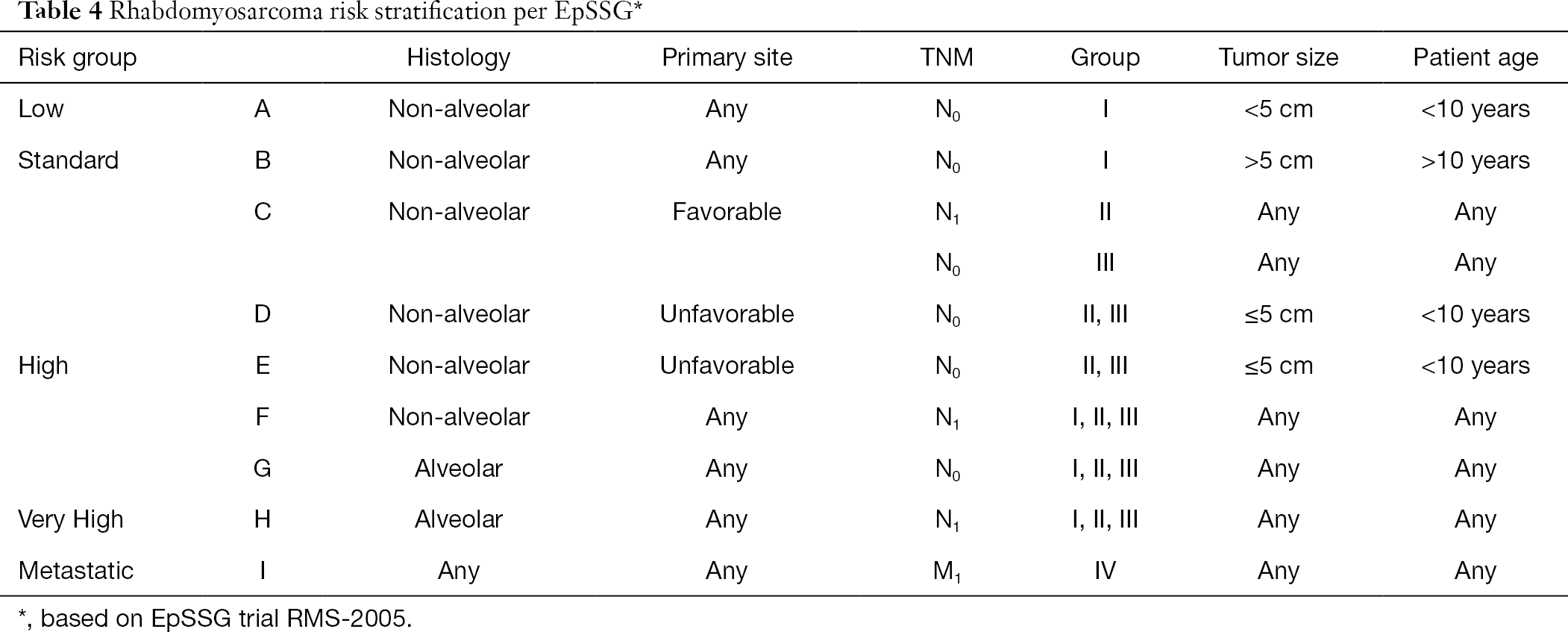 Table 4
Rhabdomyosarcoma risk stratification per EpSSG*
Full table
More recently, the COG and European cooperative groups have expanded risk stratification to also include other prognostic indicators. From a multivariate analysis on 788 cases of metastatic RMS from nine separate studies by COG and European cooperative groups between 1984 and 2000, Oberlin and colleagues proposed four additional independent prognostic indicators ("Oberlin risk factors") that correlate with worse outcomes: age below 1 year or above 10 years, unfavorable primary tumor location, having three or more metastatic sites, and bone marrow involvement (4). Patients with metastatic RMS who had fewer than two Oberlin risk factors had an event-free survival (EFS) of 44% at 3 years, whereas those with two or more risk factors had an EFS of only 14% at 3 years (Table 5).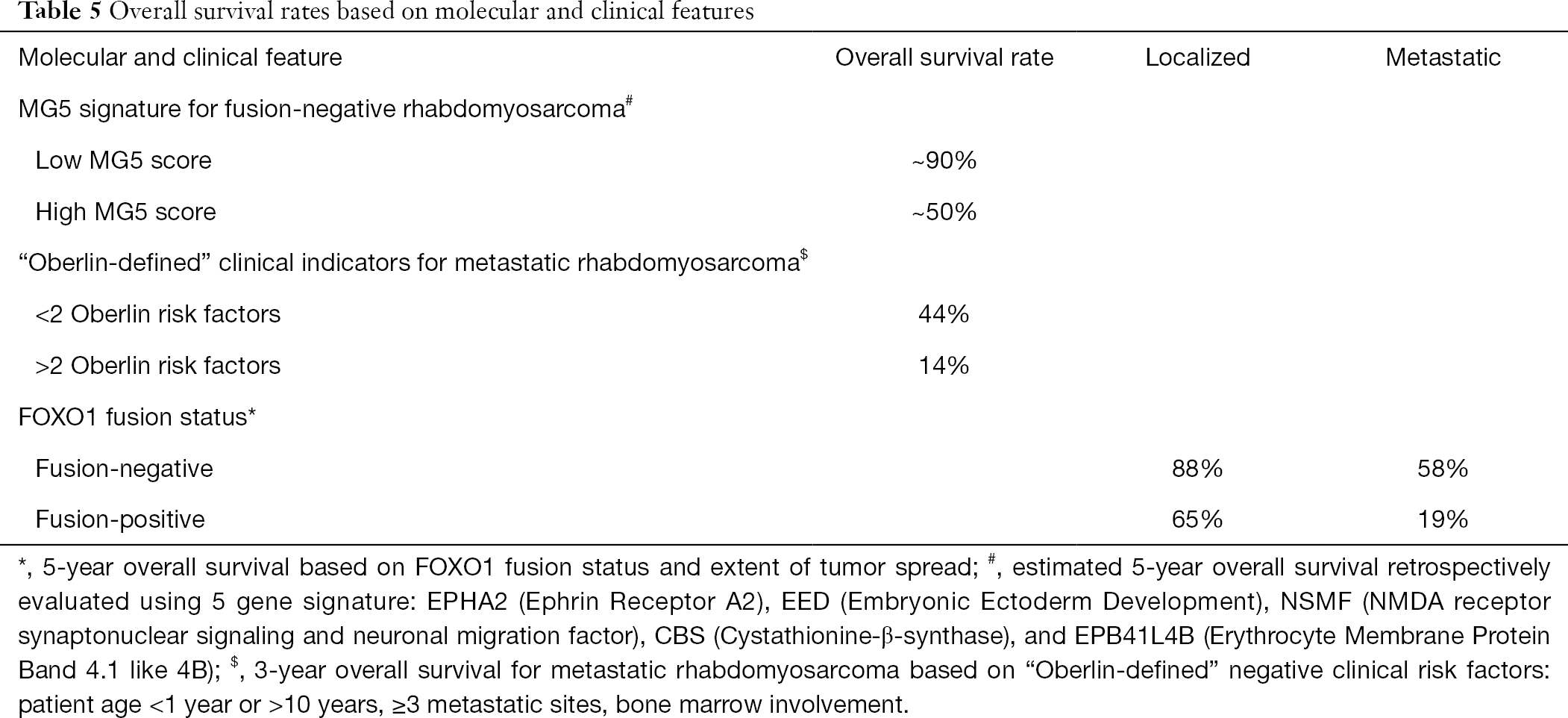 Table 5
Overall survival rates based on molecular and clinical features
Full table
While these clinical indicators aid in delineating risks for metastatic disease, molecular features may advance the ability to distinguish risks groups for low- and intermediate-risks RMS. Several retrospective studies indicate that the presence of characteristic fusion oncoproteins comprising the majority of histologic alveolar RMS cases is prognostic. Although fusion-negative alveolar RMS has an indistinguishable molecular profile and similar clinical behavior to embryonal RMS (24), alveolar cases with PAX3-FOXO1 or PAX7-FOXO1 fusions are associated with worse outcomes (5,25,26). A recent study examining over 1,700 low-, intermediate-, and high-risk patients from six previous COG clinical trials from 1997 to 2013 determined that after metastatic disease, FOXO1 fusion status is the most important prognostic factor. In this study, the 5-year overall survival of patients with fusion-negative vs. FOXO1-fusion positive RMS was 88% vs. 65% for localized disease and 58% vs. 19% for metastatic disease (27) (Table 5). Both the COG in ARST1431 and EpSSG are prospectively using fusion gene status instead of histology in new clinical trials (28,29). The prognostic utility of more robust molecular classifications beyond just fusion status is also being assessed (30,31). A retrospective evaluation of intermediate-risk fusion-negative RMS using a five gene metagene signature, termed MG5, strongly correlates with outcomes (5,31) (Table 5). Evaluation of MG5 in large prospective trials may identify subgroups that warrant modifications to therapy intensity.
New risk stratification systems that more stringently define low- and high-risk groups have been proposed (27,32). Recent COG clinical trials attempting to deescalate therapy for low- or intermediate-risk RMS (16,17) or to intensify therapy for high-risk metastatic RMS (19) have brought to light that responses to treatment based on risk stratification is more nuanced than previously believed. Results from these trials have specific implications for genitourinary RMS.
---
Genitourinary RMS
Genitourinary RMS accounts for 20–25% of all RMS cases and includes involvement of the bladder, prostate, paratesticular areas, vagina, uterus, and occasionally the kidney or ureter (8,33). Approximately 90% of cases are embryonal histology, and 5-year overall survival for all genitourinary RMS exceeds 80% (11). There is a biomodal age distribution with the majority of new cases occurring in toddlers aged 2–4 years or adolescents aged 15–19 years (7). Younger children more commonly get a variant of embryonal RMS, either sarcoma botyroides, which is a polyploid tumor that occurs in the bladder or vagina and appears as a "cluster of grapes" (34), or spindle cell RMS, which often occurs in the paratesticular region. Both botryoid and spindle cell subtypes have excellent outcomes, with 5-year overall survival rates approaching 90% (10).
Most cases of genitourinary RMS occur sporadically, although RMS is associated with several genetic syndromes. Patients with Li-Fraumeni syndrome, which is caused by loss-of-function germline mutations in TP53, are predisposed to malignancy, including an 18–27% prevalence of RMS (35,36). Costello syndrome, a rare overgrowth syndrome caused by germline mutations in HRAS, is associated with an estimated 10% lifetime risk of embryonal RMS (37). Genitourinary RMS is also reported to occur with increased frequency for patients with DICER1 syndrome (38), and RMS is associated with several other cancer predisposition syndromes such as Beckwith-Wiedemann, neurofibromatosis type 1, Gorlin's basal cell nevus, and Rubinstein-Taybi syndromes (39). Consideration for genetic counseling referral should be given to genitourinary RMS patients, particularly younger children, or those who present with syndromic features or a family history of malignancy (40).
Regarding risk stratification, non-bladder/non-prostate sites are considered favorable and can therefore only be stage 1 or stage 4, depending on the absence or presence of distant metastasis. In contrast, bladder and prostate RMS represent unfavorable sites and are thus never stage 1 (4,8,21). Using the historical IGSG/COG risk stratification schema, most paratesticular and female genital tract RMS have been treated as low-risk, whereas bladder or prostate RMS cases have typically been treated as intermediate-risk (4,8,21). The excellent overall survival rates for genitourinary RMS have led to an emphasis on reducing morbidity through organ preservation and decreased chemotherapy and radiotherapy toxicity. However, precisely identifying which patients may benefit from less aggressive local control measures or a reduction in therapy without compromising EFS or long-term survival based has been challenging.
---
Advanced approaches to local control for genitourinary RMS
When it is possible to achieve negative microscopic margins with minimal morbidity, resection of the primary tumor is the preferred method of local control (3). However, this is often not possible for genitourinary RMS. Although the presence of residual tumor prior to starting adjuvant therapy shifts patients from IRS group I or II to IRS group III, aggressive exenterative up front surgeries are no longer recommended due to significant long-term morbidities such as urinary diversion, infertility, and sexual dysfunction (41). In the 1970s, the mainstay local control approach for bladder and prostate RMS included anterior exenteration followed by chemotherapy and possibly radiotherapy. Using this approach, the first IRSG study demonstrated 78% 5-year overall survival, but 77% of patients had loss of bladder function (21). Subsequent ISRG studies using neoadjuvant chemotherapy and radiotherapy have improved bladder preservation rates to above 60% without compromising EFS or overall survival (8,42) (Table 6). Therefore, unless organ/bladder preservation with complete resection of the RMS tumor can be achieved, the standard of care today is typically multimodal strategy of a minimally invasive initial biopsy, neoadjuvant chemotherapy and radiotherapy, with or without a delayed surgical excision (10,43). One notable exception to the initial surgical management of genitourinary RMS exists. Patients 10-year of age or older with paratesticular RMS have a substantial risk of nodal relapse, which is only 8% in boys less than 10-year of age but 31% in older males (44) (Table 6). Therefore, ipsilateral retroperitoneal lymph node evaluation is recommended for males older than 10-year of age and children younger than 10-year who have large paratesticular RMS greater than 5 cm. The extent of resection, whether total sampling is adequate or total retroperitoneal lymph node dissection is needed, is still not definitively established (44-46).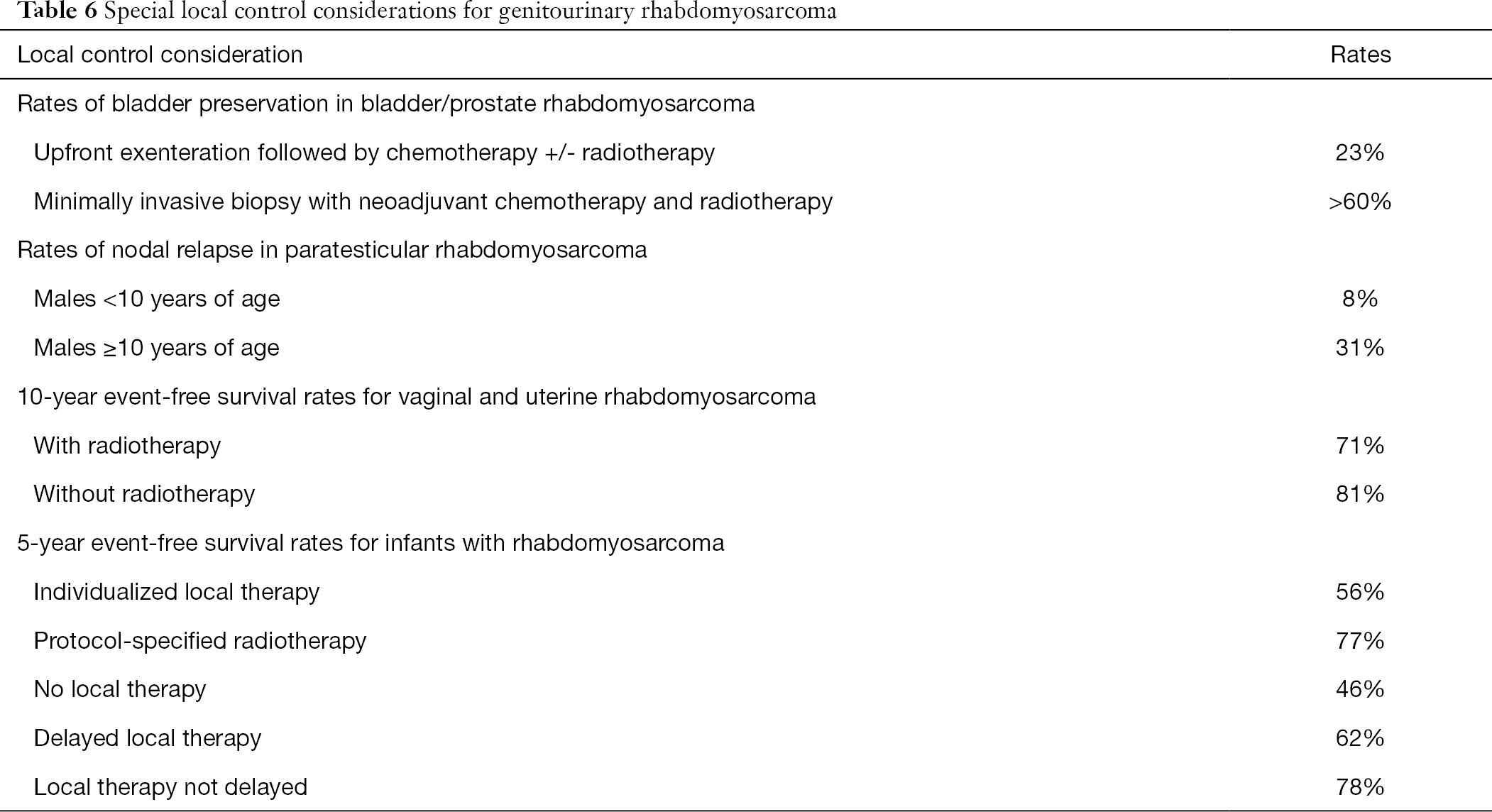 Table 6
Special local control considerations for genitourinary rhabdomyosarcoma
Full table
A standard for the implementation, timing, dosing, or modality of adjuvant radiotherapy for local control of genitourinary RMS is also still evolving. Most of the European trials have attempted to delay or omit systemic radiotherapy and have been willing to tolerate lower EFS and higher rates of relapse in order to minimize late radiotherapy-related toxicities (14). For patients with vaginal or uterine RMS who achieved a complete remission with chemotherapy alone, the SIOP group in the MTT 89 study opted for no local treatment (47-49). On the other hand, the COG adopted a more aggressive systemic radiotherapy approach in response to a 2011 report from ARST0331 of high local failure rates in non-completely resected vaginal RMS with elimination of radiotherapy (9,50,51). An important caveat to interpreting results from ARST0331 is that total cumulative akylator dosing had also been lowered, which may have contributed to the observed 43% local recurrence rate compared to only 26% on the COG predecessor trial D9602.
A recent study retrospectively examined outcomes for 237 patients with vaginal and uterine RMS treated on several cooperative group (COG, SIOP, ICG and EpSSG) trials from 1981 to 2009. In this study, 23% to 46% of patients received radiotherapy, but European groups used intracavitary brachytherapy 64% to 88% of the time compared to only 23% in the COG trials. The 10-year EFS and overall survival for all patients were 74% and 92%, respectively. Elimination of initial radiotherapy did not impact 10-year overall survival, which was 89% with radiotherapy and 94% without radiotherapy. However, confirming the observations from ARST0331, patients who did not receive radiotherapy had a lower EFS of 71%, compared to 81% EFS for those receiving radiotherapy (14) (Table 6).
Standard dosing of conventional radiation takes into account several clinical factors, including primary site, tumor size, involvement of lymph nodes, extent of resection, and FOXO1 fusion status. A dose of 36 Gy to the primary site may be sufficient for completely resected fusion positive RMS tumors, whereas incompletely resected tumors require 50.4 Gy (50). Bulky intermediate-risk RMS greater than 5 cm in size remains a challenge with local recurrence rates of 25%, which has not improved over the past several COG trials (50). Higher doses of radiotherapy to 59.4 Gy for these cases is being prospectively evaluated in ARST1431. Obtaining adequate local control for infants with genitourinary RMS also continues to present a challenge. Infants with RMS below 12 months of age have historically had worse outcomes compared to older toddler-aged children (52,53), which may be due to physicians delaying or lessening therapy in order to reduce toxicity in developing neonates (54-56). A study from the ICG reported high local failure rates of 54% when radiotherapy was omitted for young age (55). A recent report from the COG that evaluated outcomes for infants on ARST0331 and ARST0531 demonstrated that 43% of infants received individualized non-protocol directed radiotherapy in which radiation was typically delayed or omitted. Those receiving individualized therapy had higher rates of local failure and 5-year EFS, which was 55.6% with individualized local therapy versus 77.5% with protocol-specified therapy (54) (Table 6).
Results from these recent clinical trials demonstrate the challenge and differences in philosophy of balancing the risks of long-term toxicity while also not compromising local control and EFS or overall survival. These studies also confirmed that better local control measures are needed for bulky tumors greater than 5 cm and for infants with RMS. Although conventional external beam radiation remains the standard, alternative radiotherapy modalities are being evaluated. Compared to conventional fractioning of radiation, hyperfractionating radiotherapy has been shown to offer no benefit to EFS or overall survival in children with IRS group III RMS (57). Experience using intracavitary brachytherapy for primary local control, albeit with small sample sizes, suggests this may be an effective modality. Of the 28 female genital tract RMS patients who received brachytherapy alone for local control, only two experienced local recurrence (14). Similarly, using brachytherapy as primary control for a cohort of 26 males with prostate or bladder cancer allowed patients to maintain continence with only one local and one metastatic relapse at a medium follow of 4-year (58). Proton therapy is also a promising alternative (59,60). A recent study of 83 RMS patients who received proton therapy, which only included four genitourinary non-bladder/prostate RMS cases, reported 78% EFS and improved quality of life measures compared to historical controls (61). In a small study of seven children with prostate or bladder RMS, treatment with proton therapy allowed for decreased radiation exposure to surrounding normal structures, although long-term outcome data is limited (62). Finally, for patients with intermediate-risk RMS, delayed primary excision may facilitate a decrease in radiation while still maintaining local control rates similar to historical controls (63).
For infants and for individuals with unresected vaginal RMS, future clinical trial design and treating physicians must balance the risks of late effects from radiotherapy exposure against the risks for disease recurrence necessitating additional morbidity from cytotoxic chemotherapy, radiotherapy and surgery. Future prospective clinical trials should also elucidate whether brachytherapy, proton therapy, and/or delayed primary excision are able to minimize late effects while maintaining high local control rates.
---
Advances in chemotherapy for genitourinary RMS
While eradication of the gross primary tumor through a combination of surgery and/or radiotherapy is essential for most RMS cases, achieving cures also requires systemic chemotherapy. Early studies from the 1960s and 1970s demonstrated high rates of regional and metastatic recurrence for RMS patients not receiving chemotherapy (64). More recently, sensitive molecular testing with RT-PCR confirmed a suspicion that even localized tumors present with micrometastatic disease. RMS cells were detected in sampling of the peripheral blood or bone marrow of 12 of 16 cases of grossly localized RMS (65). Therefore, unlike the management of non-RMS soft tissue sarcomas, standardized care for all RMS cases, even small tumors achieving gross total resection, includes adjuvant chemotherapy.
The standard first-line chemotherapy for RMS is an intensive alkylator-containing regimen in combination with vincristine and actinomycin D. The alkylator used in North America is cyclophosphamide (combination VAC), whereas ifosfamide (combination IVA) is typically given in Europe. A randomized study comparing VAC versus IVA for initial therapy followed by VAC for all patients demonstrated these two regimens are equivalent (8). For intermediate-risk RMS, which encompasses about 60% of all newly diagnosed cases, cycles of VAC alternating with vincristine and irinotecan (VI) is also accepted as a standard backbone (VAC/VI) (32). The COG study ARST0531, which randomized intermediate-risk RMS patients to receive VAC or VAC/VI demonstrated comparable 65% to 68% 4-year EFS between the two arms (66). However, VAC/VI was associated with less hematologic toxicity and fewer hospitalizations; and with a 50% reduction in cumulative alkylator exposure, VAC/VI may also decrease the risks for hemorrhagic cystitis, infertility and secondary malignancy.
---
Low-risk genitourinary RMS
In attempt to preserve gonadal function, the most recent low- and intermediate-risk COG trials, ARST0331 and ARST0531, respectively, attempted to lower cumulative cyclophosphamide exposure without compromising outcomes. Using standard VAC therapy, low-risk patients have at least an 83% 5-year EFS and 95% overall survival (8,47). Historical IRSG risk stratification considered low-risk RMS to be localized favorable histology RMS tumors that either arise in favorable primary sites or arise in unfavorable primary sites but are grossly resected (either stage 1 embryonal RMS or stage 2/3 group I/II embryonal RMS) (3). Based on results of the predecessor low-risk trial D9602, two subsets were evaluated in ARST0331: subset I (stage 1/2 group I/II or stage 1 group III orbital) or subset II (stage 1 group III nonorbital or stage 3 group I/II). Subset I was treated with only 24 weeks of chemotherapy that included four cycles of VAC followed by four cycles of VA. The total cumulative cyclophosphamide dose was reduced to 4.8 g/m2. For this subset, outstanding outcomes were maintained using less intensive therapy, with 3-year failure-free and overall survival at 89% and 98%, respectively (67) (Table 7).

Table 7
Summary of outcomes for low-risk rhabdomyosarcoma
Full table
Low-risk subset II patients had seen an improvement with IRS-IV over IRS-III with the addition of cumulative cyclophosphamide dosing of 26.4 g/m2 (8). In ARST0331, subset II received a reduction in cumulative cyclophosphamide dosing to 4.8 g/m2 with four VAC cycles followed by 12 cycles of VA over 46 weeks. Importantly, females with genitourinary tract RMS who had a complete response to chemotherapy with or without delayed resection did not receive radiotherapy. Although excellent 3-year overall survival rates of 92% were achieved, 3-year failure-free survival was much lower than anticipated: 70% overall and only 57% for the 21 patients with genitourinary tract tumors (16). Compared to D8602, which used 28 g/m2 cyclophosphamide and reported 5-year EFS of 85%, EFS was only 64% with lower cyclophosphamide dosing (16) (Table 7). Although the study investigators concluded that these recurrence rates are suboptimal, it again highlights the aforementioned difference in prospective between North American and European cooperative groups, in which some European groups are often more willing to accept local recurrence rates in order to decrease morbidity for the majority of patients who receive treatment if overall survival rates are not jeopardized (47).
---
Intermediate-risk genitourinary RMS
In the phase III ARST0531 study, 424 patients with intermediate-risk RMS (stage 1-3, group I-III, nonmetastatic alveolar RMS at any primary site, or stage 2-3, group III incompletely resected embryonal RMS in an unfavorable site), including 55 patients with bladder/prostate RMS, were randomized to receive either VAC or VAC/VI with cumulative cyclophosphamide doses of 16.8 or 8.4 g/m2, respectively (17). This study was designed to enhance local control by delivering radiotherapy earlier at week 4, and in the experimental arm, by giving radiotherapy concurrently with irinotecan which is reported to be a radiosensitizer (68). Radiotherapy guidelines on ARST0531 did not differ from D9803 except for allowing a cone down for tumors displaying a rapid response with 36 Gy. In an effort to increase enrollment, children below 24 months of age were encouraged to receive on-protocol radiotherapy but were allowed to receive individualized local control plans. Similar to what was observed with subset II low-risk RMS, a reduction in cumulative cyclophosphamide dosing was associated with inferior outcomes compared to D9803 (17,50,66).
ARST0531 was associated with higher failure free rates, which was most pronounced in the group III embryonal RMS patients whose 5-year cumulative incidence of local failure was 27.9% compared to 19.4% on D9803. Multivariable analysis also demonstrated worse 5-year EFS and overall survival on ARST0531 compared to D9803 (17) (Table 8). Interestingly, local failure rates were not different between the VAC (16.8 g/m2 cyclophosphamide) and VAC/VI (8.4 g/m2) cyclophosphamide) treatment arms, nor with the two treatment arms of D9803 (25.1 vs. 30.8 g/m2 cyclophosphamide) (50), which demonstrates that the optimal cyclophosphamide dose to achieve local control while also minimizing toxicity in intermediate-RMS is not yet established. The method of local control for traditionally resectable tumors such as bladder dome, extremity or trunk, was a notable difference between D9803, where 45% of patients received primary resection after induction chemotherapy, and ARST0531 in which only 17% of tumors were resected. However, investigators accounted for these differences in their regression models and outcomes were still worse on ARST0531 (17).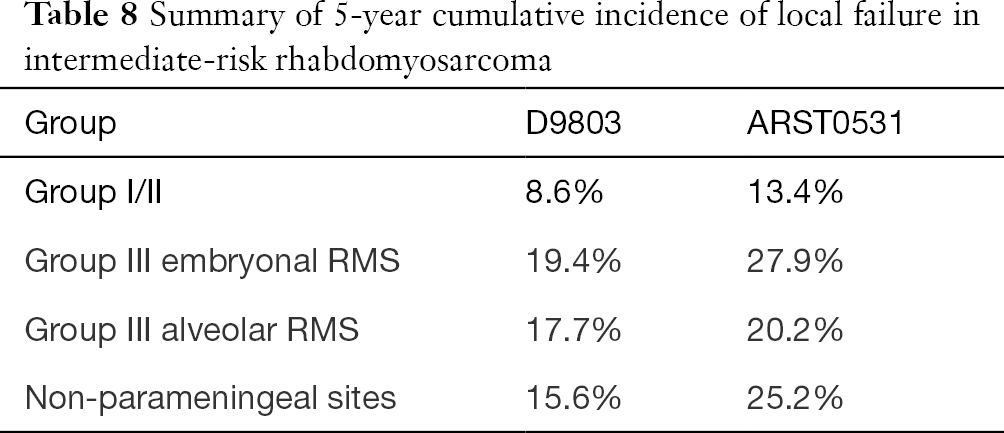 Table 8
Summary of 5-year cumulative incidence of local failure in intermediate-risk rhabdomyosarcoma
Full table
---
Maintenance therapy for intermediate-risk genitourinary RMS
The EpSSG recently reported on a phase III study, RMS 2005, evaluating the efficacy of adding 24 weeks of maintenance therapy with vinorelbine and low-dose continuous oral cyclophosphamide to non-metastatic high-risk (mostly intermediate-risk per IRS/COG) RMS patients who had achieved a complete response following 27-week of therapy. In total, 371 enrolled patients between 2006 and 2016 were randomly assigned to either stop therapy or to receive an additional 24-week of maintenance therapy. The additional chemotherapy, which resulted in a modest increase in cyclophosphamide exposure (4.2 g/m2) was well tolerated and was associated with improved disease-free and overall survival, which were 78.4% and 87.3%, respectively, in the treatment arm compared to 72.3% and 77.4% in the control group at 3-year after randomization (18) (Table 9). These excellent results, which were only recently published, may lead to a universal change in standard management to include maintenance chemotherapy for all patients with intermediate- and possibly high-risk RMS.

Table 9
Summary of outcomes with maintenance therapy for intermediate-risk rhabdomyosarcoma
Full table
---
Ongoing clinical trials for low- and intermediate-risk RMS
Lessons learned from the last COG low- and intermediate- risks studies as well as EpSSG RMS 2005 were incorporated into the ongoing phase III intermediate-risk COG study ARST1431. Previous cases of subset II low-risk RMS are reclassified as intermediate-risk, in which all patients receive 8.4 g/m2 cyclophosphamide in a VAC/VI backbone. A study question as to whether the addition of temsirolimus, which has shown activity in relapsed RMS (28), will improve outcomes when included up front will be evaluated by randomization to VAC/VI or VAC/VI plus temsirolimus. Following completion, participants from both arms will continue to receive an additional 6 months of maintenance therapy. Also, because patients less than 10-year of age with group IV embryonal RMS have a reasonably good 64% 3-year EFS (69), these individuals and are now being treated as intermediate-risk rather than high-risk. Finally, patients with bulky tumors larger the 5 cm will receive higher radiotherapy doses to 59.4 Gy instead of 50.4 Gy.
---
High-risk genitourinary RMS
Management for high-risk metastatic RMS continues to be a challenge with minimal improvement in outcomes over the past several decades. EpSSG RMS 2005 also investigated adding doxorubicin to their standard IVA backbone for high-risk RMS but this failed to lead to an improvement in EFS (70). The COG recently completed a phase II study, ARST0431, incorporating an interval compression strategy of alternating cycles of vincristine, doxorubicin, and cyclophosphamide with ifosfamide and etoposide (VDC/IE) into a VAC/VI backbone (19). Compared to historical controls, outcomes were improved with a 3-year EFS of 69% for only a subset of patients with one or no Oberlin-defined risk factors (4), but the majority of patients had more than one Oberlin risk factor and no benefit to increasing the intensity of therapy was demonstrated for this group (19). In the absence of available clinical trials, no universal consensus for the management of high-risk RMS exists (32), although select patients with limited Oberlin risks factors may benefit from escalated therapy.
---
Relapsed genitourinary RMS
Patients with recurrent RMS have a dismal prognosis with no direct comparisons of salvage regimens and no widely accepted standard of care to guide management. Unfortunately, about one third of RMS will relapse and the 5-year progression-free survival for all relapsed RMS patients is a dismal 17% (71,72). Approximately 95% of relapses will occur within 3-year of diagnosis and RMS has a median time to progression of 13 months from diagnosis. Metastatic recurrence occurs in about 40% of relapses and, compared to local or regional recurrence, is associated with a worse prognosis (73). Potential salvage regimens were recently reviewed elsewhere by a panel of RMS experts who recommend, in the absence of an available clinical trial, consideration of first-line salvage therapy for patients who are heavily pretreated with a combination of cyclophosphamide, vinorelbine, and temsirolimus, or giving VDC/IE and/or an irinotecan-based therapy for patients who did not initially receive intensive therapy (32). Breakthroughs for high-risk metastatic and recurrent RMS are desperately needed. Despite promising preclinical data, recent early phase trials of novel agents such as anti-IGF-1R and multi-tyrosine kinase inhibitor sorafenib have not shown single-agent activity in relapsed patients (74-76). Lack of improvement in the management for these patients is understandably a major emphasis for ongoing basic and translational studies.
---
Conclusions
Management for pediatric patients with genitourinary RMS is complex and requires a multidisciplinary approach. Multimodal therapy in the context of cooperative clinical trials has led to substantial improvement in cure rates for pediatric genitourinary RMS, which now exceeds 80% (11). The excellent overall survival rate for low-risk RMS patients presents an opportunity to potentially decrease toxicity, but this may come at a cost of increased rates of local failure and recurrence. Additional prospective studies are required to delineate the optimal dosing and modalities for surgery, chemotherapy, and radiation for low- and intermediate-risk genitourinary RMS. Experience with alternative irradiation modalities, such as external beam proton therapy or non-radical surgery plus brachytherapy, is limited but may lessen long-term toxicities of bladder and sexual dysfunction. While the addition of maintenance therapy improves EFS and overall survival for intermediate-risk RMS, outcomes for high-risk metastatic RMS remain very poor.
---
Acknowledgments
Funding: This work was supported by a V Foundation Scholar award and Doris Duke Charitable Foundation award.
---
Footnote
Provenance and Peer Review: This article was commissioned by the Guest Editors (John Wiener, Jonathan Routh and Nicholas Cost) for the series "Pediatric Urologic Malignancies" published in Translational Andrology and Urology. The article was sent for external peer review organized by the Guest Editors and the editorial office.
Conflicts of Interest: The author has completed the ICMJE uniform disclosure form (available at http://dx.doi.org/10.21037/tau-20-480). The series "Pediatric Urologic Malignancies" was commissioned by the editorial office without any funding or sponsorship. MDD reports grants from V Foundation and Doris Duke Charitable Foundation, during the conduct of the study. The author has no other conflicts of interest to declare.
Ethical Statement: The author is accountable for all aspects of the work in ensuring that questions related to the accuracy or integrity of any part of the work are appropriately investigated and resolved.
Open Access Statement: This is an Open Access article distributed in accordance with the Creative Commons Attribution-NonCommercial-NoDerivs 4.0 International License (CC BY-NC-ND 4.0), which permits the non-commercial replication and distribution of the article with the strict proviso that no changes or edits are made and the original work is properly cited (including links to both the formal publication through the relevant DOI and the license). See: https://creativecommons.org/licenses/by-nc-nd/4.0/.
---
References
Cite this article as: Deel MD. Advances in the management of pediatric genitourinary rhabdomyosarcoma. Transl Androl Urol 2020;9(5):2441-2454. doi: 10.21037/tau-20-480