Review Article on Muscle-Invasive Bladder Cancer
Enhanced recovery after surgery of patients undergoing radical cystectomy for bladder cancer
Introduction
Enhanced recovery after surgery (ERAS) was first introduced in 1997 by Kehlet in colorectal surgery as part of a multimodal approach to postoperative recovery (1). In 2005, the ERAS study group published an evidence-based ERAS protocol for colorectal cancer patients (2). According to the protocol, a quick return to normal function may reduce postoperative pain and stress, and reduce the rate of postoperative complications. In the protocol, ERAS does not entail preoperative bowel preparation and fasting, or intake of diluted carbohydrates and water until 2 h before surgery. Any fluid overload during the entire procedure is avoided. The body temperature is maintained, and non-opioid analgesics are used. No postoperative decompression or drainage is attempted using a nasogastric tube. The urethral catheter is removed early and physical mobilization is resumed early. The patient is advised to take postoperative diet early (2,3). In a meta-analysis of six randomized controlled trials (RCTs) for ERAS in colorectal surgery, ERAS reduced the complications by 50% and the hospitalization period by 2.5 days without any difference in re-entry rate or mortality. This study provided the basis for level 1 evidence of ERAS application in colorectal surgery (4). Since then, ERAS has been used in various surgical procedures including those related to heart, lung, gynecologic oncology, breast reconstruction, head and neck oncology, liver and pancreas, and gastrointestinal tract (5-10). In urology, ERAS has also been used in cystectomy of patients with bladder cancer (4). Cystectomy is conducted to treat complications such as intestinal resection and anastomosis for urinary diversion and associated postoperative complications. Cystectomy involves intestinal resection and anastomosis for diversion. ERAS is used to managed the complexity of these procedures and the high incidence of complications related to surgery. We reviewed the ERAS protocol (Table 1) of patients who underwent cystectomy, and analyzed the evidence for each ERAS component to assess the overall effectiveness of the intervention.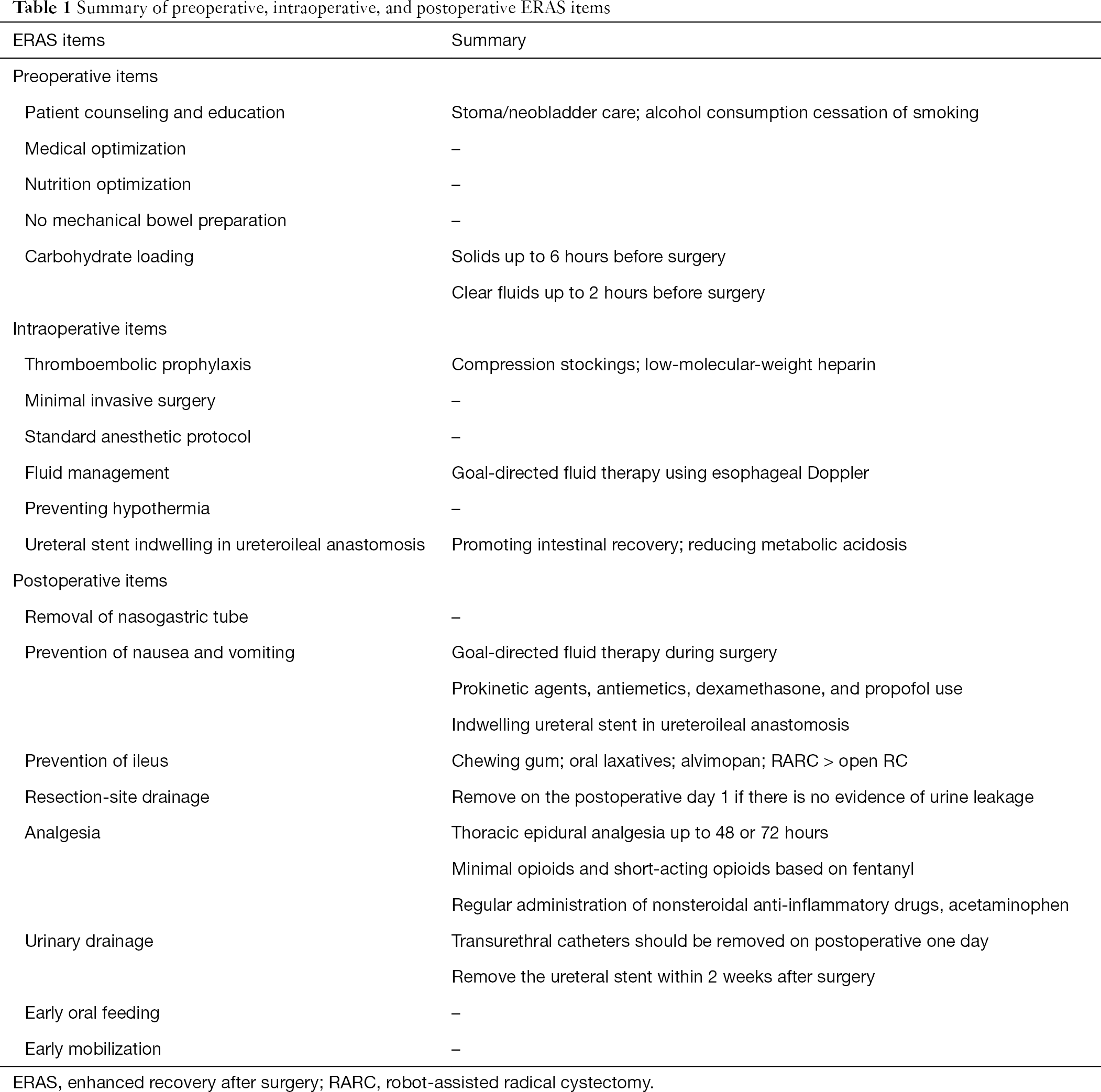 Table 1
Summary of preoperative, intraoperative, and postoperative ERAS items
Full table
---
Preoperative patient counseling and education
Preoperative counseling and education of patients and caregivers reduces patient and caregiver fears and anxieties, enhances postoperative recovery and reduces hospital stays (11-14). In addition to surgical procedure and hospitalization information, detailed information about preoperative care, discharge criteria, multiple methods for ERAS, multiple catheters, and management of stoma and neobladder should be provided (13,14). Such consulting and education can encourage patients, improve recovery and reduce complications (13-15).
---
Preoperative medical optimization and nutrition
Preoperative assessment is important for patients undergoing radical cystectomy (RC). Evaluation and optimization of multiple factors and medical conditions that affect patient's recovery after surgery are needed. Preoperative considerations include high blood pressure, diabetes, anemia, various comorbidities, physical exercise, smoking, and drinking (4,16). Preoperative physical activity and exercise can expedite recovery (17). Smoking cessation in colorectal surgery reduces postoperative complications and hospitalization rates. However, pulmonary complications often occur in case of sudden smoking cessation just before surgery for long-term smokers. To minimize these complications, smoking cessation at least 1 month before surgery is recommended (18,19). Abstinence from alcohol consumption starting 1 month before surgery reduces postoperative complications (20). Preoperative malnutrition is associated with a high risk of postoperative complications and mortality (21). To reduce complications, appropriate management is necessary at least two weeks before surgery (21).
---
Mechanical bowel preparation
Randomized controlled studies and meta-analyses have reported that mechanical bowel preparation does not decrease morbidity, hospital stay, or bowel function recovery time in colorectal surgery (22-24). Mechanical bowel preparation can cause dehydration, electrolyte imbalance, intestinal obstruction, and preoperative physical stress in the patient (24). However, a recent study involving robot-assisted RC (RARC) with intracorporeal urinary diversion reported that undigested vegetables may leak into the peritoneum during surgery, so it is necessary to avoid vegetable intake before surgery (25).
---
Preoperative fasting and carbohydrate loading
Preoperative carbohydrate loading has been shown to reduce thirst, maintain lean body mass and muscle strength, and help restore early bowel function (15,26). A meta-analysis of patients undergoing open abdominal surgery reported a significant reduction in hospital stay when they were exposed to carbohydrates before surgery (26). It is also effective in reducing postoperative insulin resistance and hyperglycemia, especially in diabetic patients undergoing surgery (15,26).
Preoperative fasting entails fasting from midnight to reduce the risk of pulmonary aspiration during surgery. However, the European Society of Anesthesiology reports that solid foods can be consumed up to two to six hours before surgery without any risk of complications due to anesthesia in such patients (27).
---
Pre-anesthetic medication
Preoperative anti-anxiety drugs have been reported to reduce early postoperative feeding recovery (28). ERAS guidelines recommend the use of short-acting sedatives and avoidance of long-acting sedatives for postoperative recovery (15). Long-acting sedatives may reduce cognitive impairment in older patients and reduce early postoperative feeding recovery (15).
---
Thromboembolic prophylaxis
The incidence of venous thromboembolism after RC is 4–8%. Patients who underwent neoadjuvant chemotherapy reported a higher risk of postoperative thromboembolism (29). Treatment with postoperative low-molecular-weight heparin significantly reduces venous thromboembolism after abdominal and pelvic surgery (30). ERAS guidelines recommended maintaining compression stocking and low-molecular-weight heparin prophylaxis for at least 4 weeks after surgery (15).
---
Minimally invasive surgery
Minimally invasive surgery can reduce pain and blood loss with smaller incisions. It can also affect pain medication use and recovery time (31). However, RARC takes longer operation time than open RC but its advantages include smaller incision size, minimal blood loss, and pain. However, in terms of complications and morbidity, there was no significant difference between the two surgeries (32). In addition, long-term pneumoperitoneum and Trendelenburg position is a burden in elderly patients with cardiopulmonary disease.
---
Resection-site drainage
Generally, drainage of the incision after surgery has been considered to reduce the risk of infection at the surgical site and to identify problems such as urine leakage at the surgical site. However, the ERAS protocol recommends removing surgical drains as soon as possible (33). In colorectal surgery, early drain removal from the surgical site did not affect surgical outcomes (34). In the case of RC, there may be a difference in colorectal surgery because urine leakage may affect intestinal recovery; however, during RARC surgery it has recently been recommended to remove the drain on postoperative day 1 if there is no evidence of urine leakage (35).
---
Preventing intraoperative hypothermia
Prolonged abdominal surgery causes hypothermia in the patient. In colorectal surgery, prevention of intraoperative hypothermia reduces postoperative complications and shortens hospitalization for patients (36).
---
Perioperative fluid management
Hypervolemia or excess fluid replacement can cause low perfusion and postoperative ileus, which can increase with intestinal obstruction or related morbidity. It is important to maintain fluid balance to reduce this morbidity (37). Goal-directed fluid therapy optimizes blood flow using esophageal Doppler in colorectal surgery, and has been reported to reduce postoperative complications and hospitalization (37). Even in RC, this Doppler-optimized intraoperative fluid management alleviated the risk of intestinal obstruction, nausea and vomiting early in the surgery (38).
---
Perioperative analgesia
The ERAS guideline recommends a minimum of 72 h of thoracic epidural analgesia (EDA) rather than systemic opioids for pain management (15). In addition to pain reduction, EDA in colorectal surgery has been shown to reduce ileus, promote postoperative recovery, and reduce cardiopulmonary flatulence (39). In studies involving patients undergoing RC, chest EDA yielded functional results and pain relief, but prospective studies are lacking (40,41). EDA is recommended at the T10 level. The optimal duration is 48 or 72 h after surgery. The use of minimal opioids and short-acting opioids based on fentanyl is recommended. A recent study of RARC with intracorporeal urinary diversion reported EDA can be routinely omitted (42). In addition, the regular administration of nonsteroidal anti-inflammatory drugs, acetaminophen, is recommended (25).
---
Urinary drainage
The ERAS guideline recommends that transurethral catheters be removed on postoperative day one. Ureteral stents should be removed after 5 days postoperatively, but the evidence is not clear (15). Ureteral stents are beneficial for urine drainage and promotion of intestinal recovery, and to reduce metabolic acidosis (33). The optimal duration of postoperative ureteral stents is unknown; however, surveys show that the ureteral stent in most patients with ileal conduit can be removed within 2 weeks after surgery. In orthotopic neobladder, 70% of respondents underwent removal of the ureteral stent within 2 weeks after surgery and 30% of respondents carried it for more than 2 weeks after surgery (35).
---
Prevention of postoperative ileus, nausea and vomiting
Postoperative nausea and vomiting (PONV) prophylaxis is indicated by opioid use, inhalation anesthetics, and nitrous oxide. Optimal management of fluid during surgery with esophageal Doppler has been reported to reduce PONV within 48 h after surgery (38). Prokinetic agents such as metoclopramide, antiemetics, dexamethasone, and propofol have been reported to prevent PONV (38,43). In addition, insertion of the ureter stent may prevent PONV during uretero-ileal anastomosis (33). After RC, ileus is one of the most common complications, and is the main cause of delayed discharge. Postoperative ileus can lead to an imbalance in the patient's nutritional status, increase morbidity, and increase hospital stay (44,45). Chewing gum has been reported to help prevent ileus. It has been reported to reduce the first flatus time and shorten the first bowel movement time (46,47). Oral laxatives are also recommended for the early recovery of organs after surgery. Prophylactic oral laxatives can rapidly restore normal bowel movement postoperatively and shorten the time to first bowel movement (48). In addition, the administration of alvimopan, an opioid receptor antagonist, has been reported to facilitate early recovery of intestinal function after surgery and shorten the length of hospital stay (49). RARC is reported to restore bowel function faster than Open RC (31).
---
Early oral feeding
Early oral food intake is important in EARS and is known to improve body homeostasis and muscle function, reduce postoperative ileus, reduce infectivity and improve recovery (50,51), There is no solid evidence of early oral food intake for RC. A meta-analysis of major abdominal surgeries reported that the group exposed to early food intake had a reduced complication rate and an increased rate of recovery. In addition, early oral food intake was reported to be beneficial in normalizing the intestinal time, such as time to flatus and time to first bowel movement (52). In colorectal surgery, early oral food intake was reported to reduce hospital stays without increasing morbidity (53,54).
---
Early mobilization
Early mobilization in colorectal surgery shortens hospital stays (55). In addition, early mobilization after RC facilitates patients' ability to perform their daily activities (17). Early mobilization after surgery is known to reduce postoperative cardiopulmonary complications and prevent thromboembolism (56). It also reduces pain, increases muscle strength, reduces the incidence of intestinal obstruction, and promotes bowel activity (57).
---
Studies evaluating the role of ERAS in RC
Table 2 shows the outcomes following application of ERAS to recent RC surgery. The length of stay (LOS), complication rate, readmission rate and mortality for 30 or 90 days were assessed. The differences in the timing of bowel movement recovery and pain relief after ERAS were investigated. Dunkman et al. reported a decrease in LOS in patients undergoing RC combined with the ERAS protocol compared with those without ERAS (62). Tan et al. reported that RARC with ERAS decreased LOS compared with RARC without ERAS and RC without ERAS: The median LOS was 7, 11, and 17 days, respectively (65). In addition, several studies reported LOS decrease after ERAS by comparing the LOS between RC patients before and after ERAS protocol (42,66,68,70,71,73,79). A meta-analysis also reported a decrease in LOS following the ERAS protocol, and reported a significant association between ERAS and LOS (78).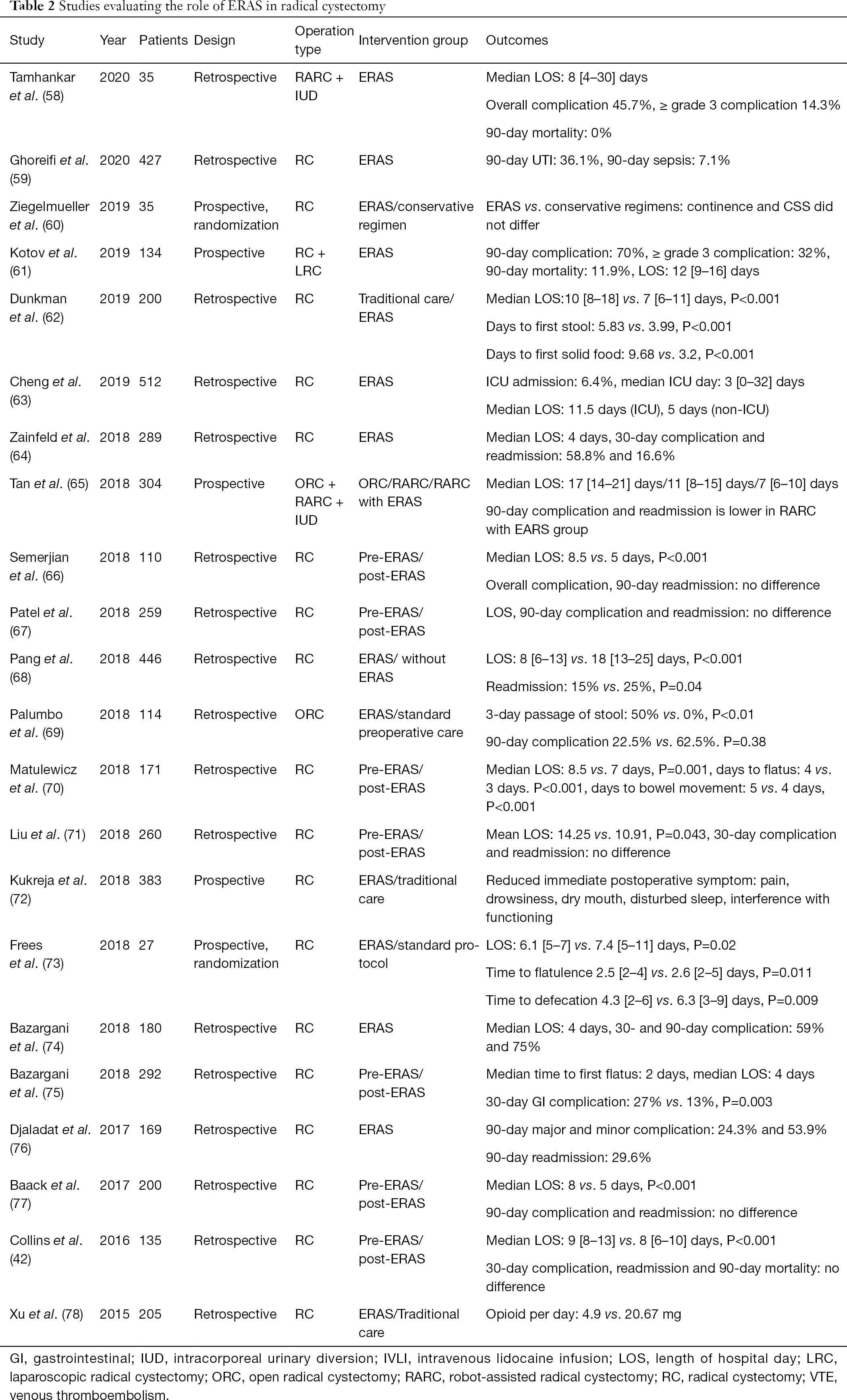 Table 2
Studies evaluating the role of ERAS in radical cystectomy
Full table
Most studies reported short-term complications after 30 and 90 days postoperatively, and analyzed the overall and severe complications (grade 3 or higher). In a comparative study of patient groups before and after the ERAS protocol, most studies reported no differences in complications between the two groups (42,66,67,69,71,79). However, Pang et al. reported a postoperative re-admission rate of 10% (P=0.043) in the ERAS and non-groups (68). Bazargani et al. reported that the GI complications within 30 days after surgery were 14% lower in the group exposed to ERAS after surgery compared with the group exposed to ERAS preoperatively (75).
Several studies have also analyzed the recovery of bowel function after surgery (62,69). Dunkman et al. reported that the day to first stool showed a significant difference of 5.8 and 4 days between the non-ERAS and the ERAS groups (P<0.001) (62). In addition, the first intake of solid food occurred 3.2 days in the ERAS group, which was 6 days shorter than in the group without ERAS (P<0.001). Palumbo et al. reported a significant difference in the passage of stool between 50% and 0% in the ERAS and the standard care groups after 3 days postoperatively (P<0.01) (69).
Further, Kukreja et al. reported that the ERAS-exposed group exhibited significantly less perioperative symptom burden, such as pain, drowsiness, dry mouth, disturbed sleep, and interference with functioning, compared with the group managed with traditional care (72). Xu et al. reported that the group managed with ERAS had significantly lower opioid usage than the group exposed to traditional care (78).
---
Conclusions
ERAS is an important treatment component in patients undergoing RC. The ERAS protocol is designed to avoid mechanical preparations and to improve postoperative recovery by minimizing fasting periods, and by promoting rapid dietary intake and mobilization after surgery. Several studies have shown that ERAS improves the recovery of RC patients. However, the high-level evidence supporting specific items in the ERAS guideline for RC patients is based on findings from colorectal surgery. Based on the differences between colorectal surgery and bladder resection and morbidity, additional randomized controlled studies or large prospective studies are needed to demonstrate the effectiveness of ERAS in patients undergoing RC.
---
Acknowledgments
Funding: None.
---
Footnote
Provenance and Peer Review: This article was commissioned by the Guest Editors (Ja Hyeon Ku, Ho Kyung Seo and Seok Ho Kang) for the series "Muscle-Invasive Bladder Cancer" published in Translational Andrology and Urology. The article has undergone external peer review.
Conflicts of Interest: The series "Muscle-Invasive Bladder Cancer" was commissioned by the editorial office without any funding or sponsorship. The authors have no conflicts of interest to declare.
Ethical Statement: The authors are accountable for all aspects of the work in ensuring that questions related to the accuracy or integrity of any part of the work are appropriately investigated and resolved.
Open Access Statement: This is an Open Access article distributed in accordance with the Creative Commons Attribution-NonCommercial-NoDerivs 4.0 International License (CC BY-NC-ND 4.0), which permits the non-commercial replication and distribution of the article with the strict proviso that no changes or edits are made and the original work is properly cited (including links to both the formal publication through the relevant DOI and the license). See: https://creativecommons.org/licenses/by-nc-nd/4.0/.
---
References
Cite this article as: Sung LH, Yuk HD. Enhanced recovery after surgery of patients undergoing radical cystectomy for bladder cancer. Transl Androl Urol 2020;9(6):2986-2996. doi: 10.21037/tau.2020.03.44