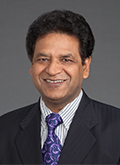 Ashok K. Hemal, MD
Department of Urology, Wake Forest University School of Medicine, Wake Forest University, Health Sciences Medical Center, Boulevard, Winston-Salem, NC, USA
Dr. Ashok K. Hemal is working as a Professor, at Department of Urology, Comprehensive Cancer Center, & Professor, Institute for Regenerative Medicine. He is Director of Robotics and Minimally Invasive Surgery and chief of Uro-oncology at Wake Forest Medical School & Baptist Baptist Medical center, USA.
His main passion has been development of new techniques in minimally invasive way and to impart and disseminate knowledge all across the globe so more patients and community can be helped. At least 50 of his trainees are holding chair or important position in the field of urology. He has contributed several first series in the field with research focus on uro-oncology. Dr. Hemal has done pioneering work in the field of laparoscopy while he was at AIIMS, N.Delhi. He has also performed the first Robotic Radical Prostatectomy for Cancer Prostate in India on 29th April, 2005. He has been visiting professor to various top academic programs and invited to deliver over 400 guest lectures all across the world.
Dr. Hemal has 7 books and over 400 scientific papers and book chapters to his credit, published in international peer reviewed journals & books of high quality(www.pubmed.com/ahemal). Last year second edition of robotics in Genitourinary Surgery has been published. He is a scientific committee member of AUA Education & Research and Urology Care Foundation committees. He is president of Society of robotic urologic surgery. He is also scientific committee member of WCE and SIU.
Terms of Appointment: May 2019 - Apr 2021