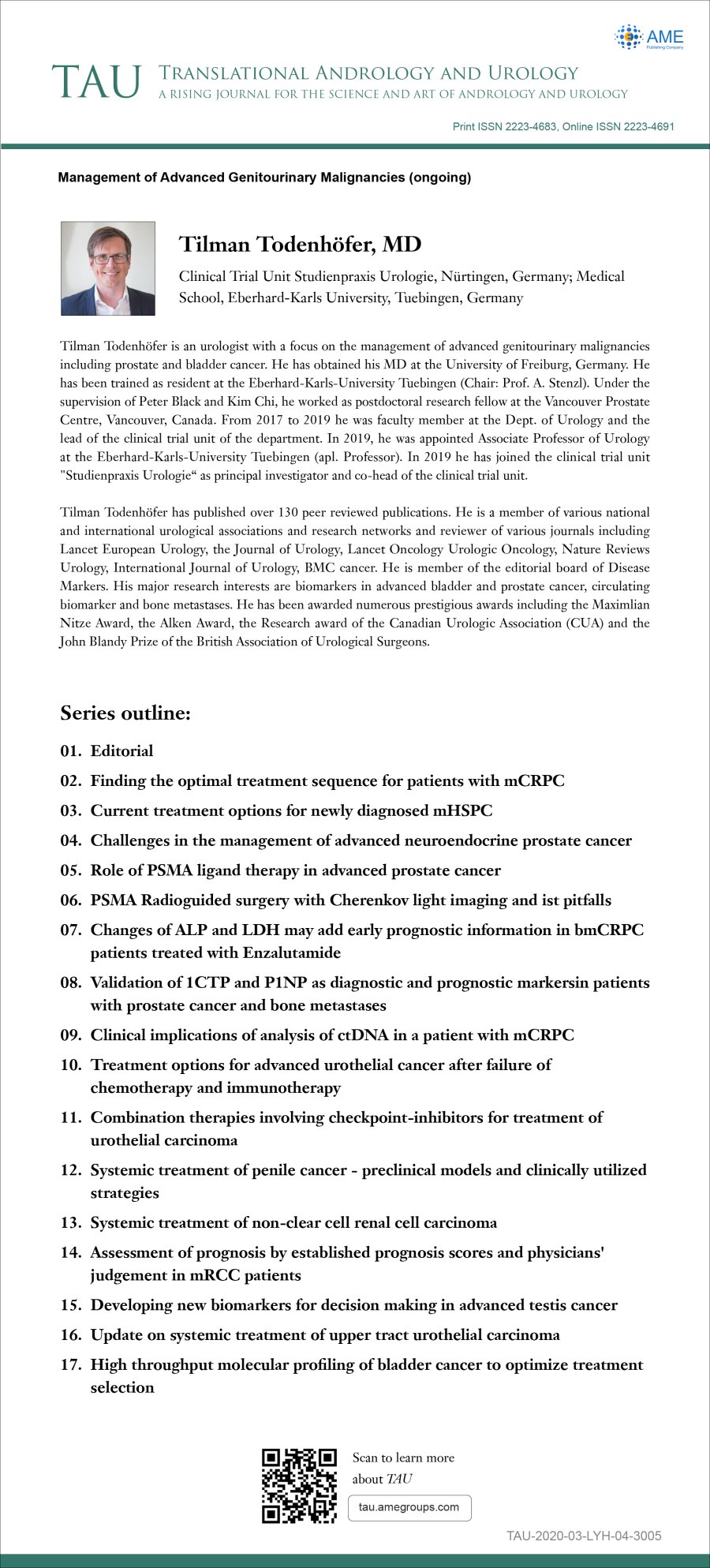 This Series on Management of Advanced Genitourinary Malignancies is edited by Prof. Tilman Todenhöfer from Clinical Trial Unit Studienpraxis Urologie, Nürtingen, Germany; Medical School, Eberhard-Karls University, Tuebingen, Germany.
Tilman Todenhöfer is an urologist with a focus on the management of advanced genitourinary malignancies including prostate and bladder cancer. He has obtained his MD at the University of Freiburg, Germany. He has been trained as resident at the Eberhard-Karls-University Tuebingen (Chair: Prof. A. Stenzl). Under the supervision of Peter Black and Kim Chi, he worked as postdoctoral research fellow at the Vancouver Prostate Centre, Vancouver, Canada. From 2017 to 2019 he was faculty member at the Dept. of Urology and the lead of the clinical trial unit of the department. In 2019, he was appointed Associate Professor of Urology at the Eberhard-Karls-University Tuebingen (apl. Professor). In 2019, he has joined the clinical trial unit "Studienpraxis Urologie" as principal investigator and co-head of the clinical trial unit.
Tilman Todenhöfer has published over 130 peer reviewed publications. He is a member of various national and international urological associations and research networks and reviewer of various journals including Lancet European Urology, the Journal of Urology, Lancet Oncology Urologic Oncology, Nature Reviews Urology, International Journal of Urology, BMC cancer. He is member of the editorial board of Disease Markers. His major research interests are biomarkers in advanced bladder and prostate cancer, circulating biomarker and bone metastases. He has been awarded numerous prestigious awards including the Maximlian Nitze Award, the Alken Award, the Research award of the Canadian Urologic Association (CUA) and the John Blandy Prize of the British Association of Urological Surgeons.
Series outline:
Editorial
Finding the optimal treatment sequence for patients with mCRPC
Current treatment options for newly diagnosed mHSPC
Challenges in the management of advanced neuroendocrine prostate cancer
Role of PSMA ligand therapy in advanced prostate cancer
PSMA Radioguided surgery with Cherenkov light imaging and ist pitfalls
Changes of ALP and LDH may add early prognostic information in bmCRPC patients treated with Enzalutamide
Validation of 1CTP and P1NP as diagnostic and prognostic markersin patients with prostate cancer and bone metastases
Clinical implications of analysis of ctDNA in a patient with mCRPC
Treatment options for advanced urothelial cancer after failure of chemotherapy and immunotherapy
Combination therapies involving checkpoint-inhibitors for treatment of urothelial carcinoma
Systemic treatment of penile cancer - preclinical models and clinically utilized strategies
Systemic treatment of non-clear cell renal cell carcinoma
Assessment of prognosis by established prognosis scores and physicians' judgement in mRCC patients
Developing new biomarkers for decision making in advanced testis cancer
Update on systemic treatment of upper tract urothelial carcinoma
High throughput molecular profiling of bladder cancer to optimize treatment selection